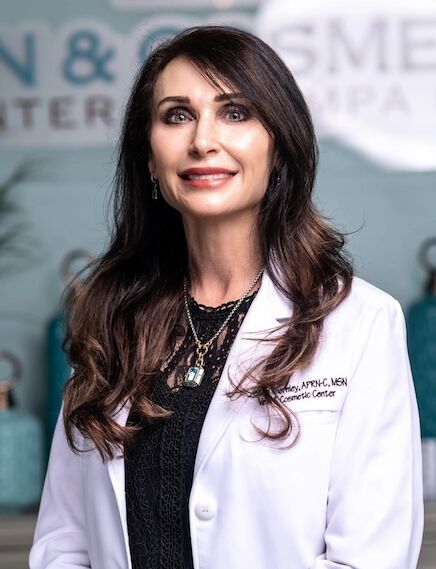 Kristen Thornley completed her training as a Family Nurse Practitioner, receiving her Masters of Science in Nursing at the University of Central Florida in 2001. She graduated top of her class with Sigma Theta Tau nursing Honors.
As our Clinical Director, she earned the prestigious black diamond injector status after having performed over 10,000 BOTOX® Cosmetic treatments making her one of Allergan's top injectors in the country. She is a highly skilled facial rejuvenation injector with a perfectionist's eye. She also has a passion for helping her patients create the naturally youthful appearance that so many of us long for as we age, through the use of injectable fillers, neurotoxins and PDO/PLLA threads. She is certified in the specialized training of Bio-identical Hormone Pellet Therapy and has received extensive hands-on training in the most cutting-edge methods of employing neuromodulators and dermal fillers to achieve superb cosmetic results. She also uses advanced methods of microcannula placement for optimal patient results with minimal downtime, and she specializes in the placement of JUVÉDERM® XC, JUVÉDERM VOLUMA™ JUVEDERM VOLLURE, JUVEDERM VOLBELLA, Restylane®, Restylane® Lyft, Sculptra™, and Radiesse®.
"I love helping people radiate their inner beauty by simply accentuating their features and correcting their cosmetic concerns. It gives me such satisfaction to hear how much of a positive impact it can make on a person's self-confidence, and I truly enjoy being able to provide that." ~ Kristen Thornley, A.R.N.P., M.S.N.
Kristen's Patient Reviews
Kristen is the BEST!!!!! Love everything about her!!! Her approach is warm and welcoming-despite being so busy, she listens to my concerns, her technique is spot on, and she is helpful/suggestive but never pushes to upsell any products or treatments. She is the reason I drive an hour each way!
Kristen is a true professional that I can really admire. Her and the staff make you feel cared for and is extremely efficient on my needs. Would never go to anyone else!! Thank you!
Kristen and her assistants are always professional while being personable. They always make me feel relaxed and educate me on new products and procedures available. Kristen is the BEST at suggestions that may correct problem areas that may have developed in your aging process. Her track record with me is awesome! She is the reason I return to the Vein & Cosmetic Center repeatedly.
Kristen & sincere professionalism go hand in hand! I'm SO happy with my results! Great to know they are still #1 in Tampa Bay for all your vein & cosmetic needs!
Kristen is fierce her ability to transform is stellar.
I found Kristen through a FB group and am so happy with the results! I hadn't botoxed for 4 years because of pregnancy; but the 2 day before and after pictures are insane. Kristen was incredibly kind and insightful on a long term program, but never tried to unnecessarily up-sell me which I greatly appreciated!
I wanted to update my review. Yesterday I had the pleasure of having an appointment with Kristen. She is amazing !! She knows just where to inject without looking overdone. She always up on the latest fillers and procedures by going to all the conferences and continues her knowledge. 20 years of going to her and never have I been disappointed!! Also a plus for anyone scared of needles she uses a machine that blows cold air at the same time as she does the injections and you can feel a thing!! Anyone in need of a pick me up or make over should see Kristen for amazing results.
Update- Summer 2016- Kristen also performed two ResurFX with IPL treatments on my face. My skin has never looked so great! ResurFX with IPL did an excellent job of correcting both the dark/brown and reddened color irregularities in my skin. For me, this was a relatively low-pain procedure with very little downtime. I am VERY happy with the results I achieved. Would recommend!! Thank you Kristen and staff for your consistently excellent care!
I've been going to the Vein & Cosmetic Center for over a year. I see Joy for my hormone Pellet therapy. She is so informative, caring and basically it changed my life for the better. I see Kristen for my IPL, Botox, anything for my face & neck, and cannot tell you enough how precise and perfect she Is. I'm almost 60 years old and get more compliments thanks to The Vein & Cosmetic Center of Tampa Bay. Best place in the Tampa Bay Area.
I have gone to the Vein and cosmetic center for over 10 years. I have always been extremely happy with my results. I always went to Kristen for Botox and all my injectables, such as Voluma, Juvederm and Radiesse. Kristen is the best injector I have ever gone to. I have always been afraid to trust anyone else, because she is that good! I was going out of town and wanted to take advantage of the great specials they were running and Kristen was completely booked, so I decided to try someone else there. I made an appointment with Jessica. I was a little nervous trying someone different, but as soon as I met Jessica, I felt like I was in extremely good hands. Jessica was extremely precise, accurate, took her time to make sure I was even and really made me feel she was paying attention to my specific face and needs. She was very calm and professional. In the past when Kristen was not available, I would go to someone different at the practice and I was always extremely happy. Obviously Kristen is very careful who she hires at The Vein and Cosmetic center and trains them the way she practices. I highly recommend this facility and any of their staff. I think that everyone that works there is extremely skilled and knowledgeable. They also offer the very best pricing and specials on both sides of the bay. The facility is newly remodeled and is extremely beautiful and very relaxing. Kristen handled all the decorating herself and did an amazing job!! Thanks Vein and Cosmetic Center for always living up to my expectations!!!
My experiences with the Vein and Cosmetic Center have been phenomenal! Kristen and Sue always make my experience top notch! I have utilized Sculptra, voluma, Juvederm, and other services at the center and always come away feeling pampered and love my look! Was recently at a 40th high school reunion and everyone asked if I had had any type of plastic surgery! I gave all the credit for my skin to Kristen and her wonderful staff! I cannot sing their praises enough! Highly recommend their work....you will not be disappointed!!! And a special shout out to Jasmine, Melissa and Jenn ----they are all awesome and very helpful!! Thankyou Vein and Cosmetic Center---you ROCK!!
Absolutely love this place, Kristen for injections is very knowledgeable and always does a fantastic job!
I love the Vein and Cosmetic Center of Tampa Bay! Outstanding service from Kristen and Alex. I have referred so many folks-they too are very pleased. Honestly, the best Center I've been to for this type of service
I can't say enough about Kristen and staff at Vein Center Med Spa. I've been a client for more than 10 years. Kristen's knowledge of the latest and greatest beauty treatments as well as her suggestions regarding the best value based on my needs are always first and foremost. There is never any pressure. The Med Spa usually has monthly specials which are cost saving and well worth taking advantage of. The facility is attractive, very clean and a pleasure to visit. I frequently recommend friends who have become happy clients. You are always greeted by friendly staff and Chocolates everywhere which are hard to resist!!!
I came to the office for HRT and facial fillers. The staff there were very helpful and friendly. Dr. Hunt was very knowledgeable and answered all my questions so I understood all phases of my treatment. Kristen performed the facial fillers and she had an extremely gentle touch. I started to see some of the results in minutes. It has been almost 3 weeks since and I am very happy with my result. I will definitely continue treatments here. I travel a long distance to come here and it is worth every mile.
Awesome place. Kristen is the best with filler. I would not go to anyone else!!!!
I came to The Vein and Cosmetic Center for removal of my varicose and spider veins, I could not be happier with the results. Dr. Hunt did an amazing job and I am now very comfortable wearing dresses and shorts. Every year I make an appointment to touch up my spider veins and I can tell you they are very particular and find ones I didn't know existed. As a result of my leg treatments I was very fortunate to get introduced to Kristen. She is the BEST person to see in the South TAMPA for any type of fillers,Botox and always gives the most perfect advice on skincare. Love her IPL and FX laser. She is an artist and takes time to explain everything, the office is friendly, professional and very relaxing.
I've been seeing Kristen for about 3 years now for Botox and most recently for fillers. I never feel pressured into anything, in fact sometimes she talks me out of things by complimenting my features so much! Kristen has a very gentle touch and always walks you through each step. I've never experienced any bruising and I think that's largely due to her technique. The office is beautiful and always clean. I will never go anywhere else!
~ Sandra B.*
May 27, 2020
I have been going to Kristen and the Vein & Cosmetic Center for over 10 years, and have always had a very positive experience. Kristen is very professional, and at the same time very caring and honest. Any questions or concerns I have are answered and discussed right away. The entire staff is very friendly and willing to help, and the wait time is minimal. I would strongly recommend the Vein & Cosmetic Center to anyone.
~ Anonymous*
February 27, 2020
I absolutely love the Vein and Cosmetic Center of Tampa Bay. I cannot say enough good things about their staff, their quality of service, their pricing and their beautiful facility. Kristen is my absolute favorite injector. She is a breath of fresh air and can turn a bad day into a good one just by her presence . She is phenomenally skilled at laser peels and I get so many compliments on my skin. I am in my forties and I am so grateful for an amazing facility with amazing staff who keep me looking youthful. I highly highly recommend.
~ Michelle I.*
February 13, 2020
I was highly impressed with everything about Vein and Cosmetic Center of Tampa Bay. The high quality of service and time and care that Kristen Thornley gave to me was phenomenal. She took so much time and care with me and made me feel at ease. I had fillers for my lips and jowls, and Botox for my crows feet. She is so highly trained and experienced in her field excelling in everything she does. I hardly felt a thing as she worked effortlessly. I look amazing from everything she did and will never, ever go anyplace again. The staff is exceptionally trained and make you feel so comfortable. I highly recommend this outstanding cosmetic center.
~ Anonymous*
August 20, 2019
One of the most rapidly developing fields, Kristen has a depth of laser experience that has been honed by over fourteen years of experience working with numerous types of lasers alongside Dr. Hunt. Some of the 18 different lasers that she specializes in include IPL Photo Rejuvenation, eMatrix™ Sublative, Harmony® Pixel, Pixel RF, ResurFX®, Fotona Erbium Micropeel, Fotona 3D Laser Facelift, Fotona Pixel and Fractional CO2. Combining the highest quality skincare products with the latest technology in lasers, she works closely with patients to provide each individual with a multidisciplinary plan of care to achieve optimal results for their concerns, including sun damage, wrinkles, acne, scars, and rosacea. She is also trained in anti-aging medicine with Bio-Identical Hormones through BioTE and Silhouette Instalift suspension suture cone lift and Eurothreads to lift the areas of the mid-face.
She is a member of the American Academy of Nurse Practitioners, American Society of Laser Medicine and Surgery, and the Academy of Anti-Aging Medicine.
During your consultation, she will spend as much time as needed to create a look that best fits you. With her steady hands, gentle touch, and friendly, welcoming demeanor, she endeavors to ensure your comfort and improve your self-esteem and confidence. She is compassionate towards her patients and highly knowledgeable about the dynamic and ever-changing field of aesthetic medicine.