Specialist in Tampa Offers New Non-Surgical Treatment for Excessive Sweating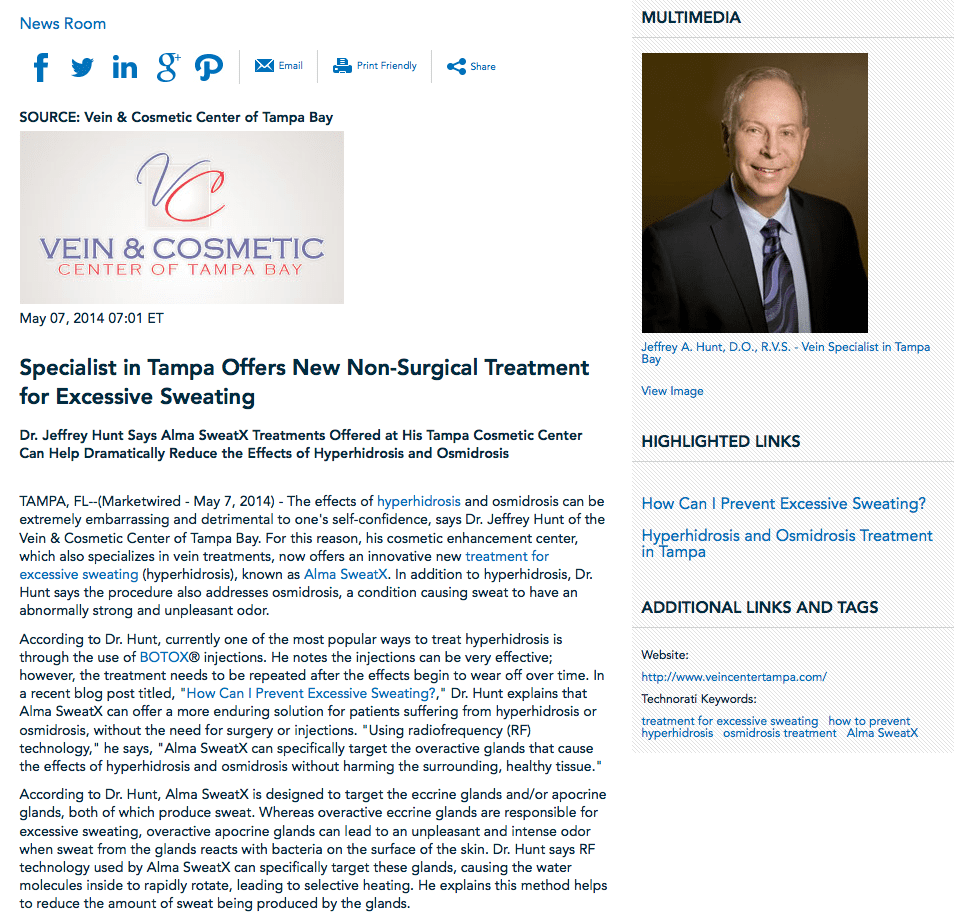 Dr. Jeffrey Hunt says Alma SweatX treatments offered at his Tampa cosmetic center can help dramatically reduce the effects of hyperhidrosis and osmidrosis.
Tampa, FL — The effects of hyperhidrosis and osmidrosis can be extremely embarrassing and detrimental to one's self-confidence, says Dr. Jeffrey Hunt of the Vein & Cosmetic Center of Tampa Bay. For this reason, his cosmetic enhancement center, which also specializes in vein treatments, now offers an innovative new treatment for excessive sweating (hyperhidrosis), known as Alma SweatX. In addition to hyperhidrosis, Dr. Hunt says the procedure also addresses osmidrosis, a condition causing sweat to have an abnormally strong and unpleasant odor.
According to Dr. Hunt, currently one of the most popular ways to treat hyperhidrosis is through the use of BOTOX® injections. He notes the injections can be very effective; however, the treatment needs to be repeated after the effects begin to wear off over time. In a recent blog post titled, "How Can I Prevent Excessive Sweating?," Dr. Hunt explains that Alma SweatX can offer a more enduring solution for patients suffering from hyperhidrosis or osmidrosis, without the need for surgery or injections. "Using radiofrequency (RF) technology," he says, "Alma SweatX can specifically target the overactive glands that cause the effects of hyperhidrosis and osmidrosis without harming the surrounding, healthy tissue."
According to Dr. Hunt, Alma SweatX is designed to target the eccrine glands and/or apocrine glands, both of which produce sweat. Whereas overactive eccrine glands are responsible for excessive sweating, overactive apocrine glands can lead to an unpleasant and intense odor when sweat from the glands reacts with bacteria on the surface of the skin. Dr. Hunt says RF technology used by Alma SweatX can specifically target these glands, causing the water molecules inside to rapidly rotate, leading to selective heating. He explains this method helps to reduce the amount of sweat being produced by the glands.
Dr. Hunt says most patients treated at his Tampa Bay cosmetic enhancement practice have been able to see improvements after their initial treatment. He notes that he typically recommends for patients to return for follow-up treatments in order to attain the best possible results, explaining that most patients are able to achieve significant sweat reduction after four, 20-minute weekly treatment sessions. Patients should be able to return to their daily activities immediately after the treatment, and generally experience little to no pain, says Dr. Hunt. He believes Alma SweatX can be an excellent solution for individuals who suffer from hyperhidrosis or osmidrosis, stating, "This new, minimally invasive treatment is the best procedure we have found to treat this emotionally important condition."
About Jeffrey A. Hunt, D.O., R.V.S.
Dr. Hunt is the Medical Director of the Vein & Cosmetic Center of Tampa Bay. He specializes in medical esthetics and vein treatment, and is board-certified by the American Osteopathic Board of Family Physicians. Dr. Hunt has also participated in research to advance medical esthetics, including conducting FDA clinical trials which led to approval of intense pulsed light treatments for skin resurfacing and hair removal in the United States. He is available for interview upon request.
To learn more about Dr. Hunt or the Vein & Cosmetic Center of Tampa Bay, please visit veincentertampa.com or facebook.com/veincentertampa.
Contact:
Vein & Cosmetic Center of Tampa Bay
3001 N. Rocky Point Dr. E
Suite 125
Tampa, FL 33607
(888) 434-9192